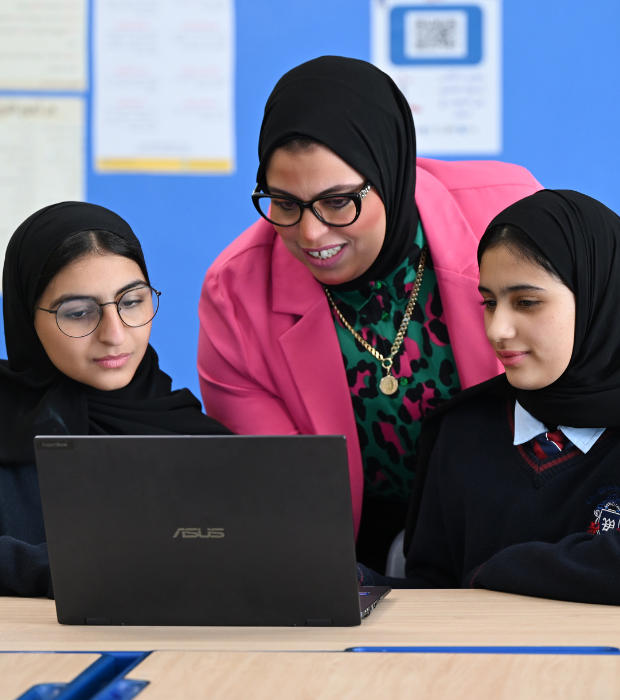 Curriculum
GEMS Winchester School Fujairah offers a values-based British curriculum education.
Curriculum: National Curriculum for England
Grades: Pre-KG to Grade 12*
At GEMS Winchester School Fujairah we teach the traditional UK curriculum but in an international context where the UAE Ministry of Education syllabus is incorporated into the curriculum structure.
In addition to the development of specific skills and competencies, the curriculum emphasizes enquiry, creativity, analytical evaluation and other skills needed to meet the challenges of the future.
Course Structure
Students are introduced to English, Mathematics and Science through activities that include the teaching of:
Shapes
Colours
Letters
Numbers
Seasons
Pre-KG
Age: 3 Years old
KG1 and KG2
Age: 4 and 5 years old
The KG of school introduces young learners to school-life, as students develop their motor skills, foundation-level numeracy and literacy skills, and self-esteem through play-based learning activities in a safe and exciting environment.
Grades 1, 2 & 3
Age: 6, 7 & 8 years old
Students are still discovering their skills and competencies, and at this stage they are introduced to subjects that will lay the foundation for learning as they go into higher year levels. Learning is still exciting and the learning atmosphere is stimulating.
Core Subjects:
English
Mathematics
Science
Other Subjects:
Information and Communication Technology (ICT)
Humanities (History and Geography)
UAE Social Studies.
Arabic A (for Arabic speakers)
Arabic B (for non-Arabic speakers)
Islamic Studies (for Muslim students) or Personal, Social and Health Education (PSHE) (for non-Muslim students)
Music
Physical Education (PE)
Art
Grades 4, 5 & 6
Age: 9 years old to 15 years old
Students start to rationalise and think independently. The curriculum sets challenging targets and its methodical implementation encourages each student to pursue individual targets and goals. Older students are ready for creative and accelerated learning; they become aware of the need to set daily goals and have long-term objectives.
Core Subjects:
English
Mathematics
Science
Other Subjects
Information and Communication Technology (ICT)
Humanities (History and Geography)
UAE Social Studies.
Arabic A (for Arabic speakers)
Arabic B (for non-Arabic speakers)
Islamic Studies (for Muslim students) or Personal, Social, Health and Citizenship Education (PSHCEE) (for non-Muslim students)
Music
Physical Education (PE)
Art
French
Grades 7 – 10
WSF covers the National Curriculum for England in KS3 and KS4.
Delivering Arabic and Islamic education as required by the Ministry of Education.
Subjects offered:
Arabic
Islamic
English
Mathematics
Biology
Chemistry
Physics
Music
Art
Information Technology
Physical Education
Recognise our cultural diversity and utilise the UAE's distinctive geography and rich history as a resource for learning through the UAE Social Studies programme.
To allow students to acquire and develop skills in speaking, listening, literacy and numeracy. Incorporate regular assessment and reporting.
To facilitate Secondary students to apply and to join universities of their choosing in a wide range of countries and to provide guidance to assist the process.
Providing exam qualifications provision through CIE and Edexcel examinations.
Grade 11 and 12
WSF covers the National Curriculum for England in KS5.
International Advanced Levels
Grades 11 and 12 cover the International Advanced Level (IAL) syllabus of study. This consists of two years. Year 1 is called the Advanced Subsidiary (AS). At the end of Grade 11 students take their AS examinations and continue with the final year of the courses which is called the Advanced 2 (A2). The AS and the A2 years combine to form the International Advanced Level qualification.
Students continue with their Ministry of Education studies alongside their chosen Advanced Level studies. Students choose 3 subjects to take for their IALs
Subjects offered are:
• English
• Mathematics
• Biology
• Chemistry
• Physics
Our examinations are run through Pearson Edexcel for all subjects.
Entry Requirements:
Students wishing to carry on into Grade 11 or join from other schools should first have reached the required standard of High School Equivalency, if studying here in the UAE. For students studying the British Curriculum, the following minimum criteria applies (as per Ministerial Decree No. (199):
• Passing Islamic Education subject (for Arab Muslims and Non-Arab Muslims) and the Arabic language subject (for Arab students) in Grades 10.
• The student must have passed at least 5 IGCSE/ GCSE's subjects awarded at grades A*, A, B, C, D, E or grades 3-9 if using the new grading system.
• Islamic Education is not approved to form any of the 5 IGCSE subjects.
• Arabic language is not approved to form any part of the 5 IGCSE subjects.
University Applications
Running the British Curriculum, we have particular knowledge about the Universities and Colleges Admissions Service (UCAS) in the United Kingdom. We are also able to offer careers guidance on global university destinations. We have links with local universities in Fujairah and run events where students can learn about their possible destinations and the requirements for different countries and courses.
Student Leadership Opportunities
We encourage all of our Grade 11 and 12 students to become involved in student leadership opportunities. Our Secondary School Student Council is run by the students, for the students, and is a great way to highlight skills and attributes to potential universities. Students support on issues such as the environment, wellbeing, mental health and charity work. They also run projects like Reading Club for our Grade 1-5 students as well as giving their advice to our IGCSE students about their experiences from the previous year.

Extra Study
Students in Grades 11 and 12 will have a minimum of 8 free lessons a week. In this study time as well as working on their chosen subjects, we advise them to complete courses through Future Learn or Coursera to add to their portfolio of evidence for their university applications.
Class Tutor Support.
Each Grade is supported by their Class Tutor who is the first point of contact for parents. The Class Tutor supports the students every day and runs their Moral Education curriculum. During tutor time we also provide additional support such as money management which aims to equip the students with basic financial acumen before they embark on their university careers.
Breadth
Breadth will allow students to have contact with different elements of learning – knowledge, skills, concepts and attitudes – and the different areas of learning- aesthetic, creative, human and social, linguistic and literary, mathematical, moral, physical, scientific, spiritual and technological.
Balance
Balance will allow each area of learning and experience appropriate attention. Local, regional and international comparisons will be made in discussions concerning the best balance across the curriculum.
Coherence
Coherence will be achieved through planning and discussion with schemes of work for all courses at all levels documented in advance. Monitoring aims to consider individual student progress over their whole curriculum.
Relevance will be achieved:
Through recognition of previous learning, with clear records maintained of work completed and standards achieved;
Through planned progression;
Through careful counselling of subject in selection of subject options in year 9, where maximum freedom of choice for the student (within the inevitable constraints) will be a high priority.
This will be especially true in key stage 4 where this principle underpins all of the Information, Advice and Guidance (IAG) the students require to make vital curriculum choices.
Differentiation will be achieved:
Through detailed and appropriate planning and discussion of students individual needs;
Through teaching style and method;
Through teacher response to individual's work triggered by regular assessment of aural and written contributions.
Curriculum planning will take place throughout the year. Every effort will be made to match the resources of the school to the needs of the students, though it is accepted that issues related to variability may compromise curriculum ideals.
Inclusion
WFS recognizes that every student has specific learning needs. The school is developing provision with specific learning needs. When necessary, an educational review is carried out by the head of inclusion, to determine the nature and extent of the special needs, to inform school practice. A register is kept of those students who receive SEND (Special Educational Needs) support EAL (English Additional Language) provision and AGnT (Able Gifted and Talented) students. Individual policies exist to inform all procedures.
Moral education and Personal Social Health Education
The need for students need to be healthy, to stay safe, to enjoy and achieve economic well being and to make a positive contribution to the community lies at the heart of primary and secondary curriculum. The programme is integrated into the primary and secondary curriculums through dedicated periods.