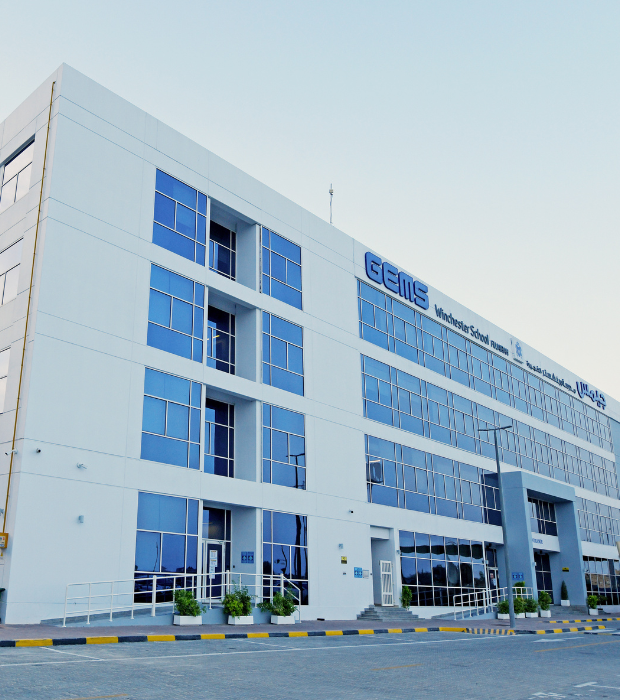 Campus and Facilities
Excellent facilities suited for a contemporary international school
We trust that we have excellent facilities that are ideal for a contemporary international school. Our campus has been designed to accommodate our students, from a specialized kindergarten on the ground floor to state-of-the-art science labs on the third floor, which make it easy for pre-university students to experiment more. Our buildings help us achieve our goal of giving students a stimulating place to learn, grow, and find out more.
General Facilities
Our facilities support our vision of creating a stimulating learning environment for students to grow, learn and discover in.
Our facilities include:
Classrooms equipped with modern facilities and connected with high-speed internet.
Three state-of-the-art Innovation Labs featuring the very latest educational technology such as virtual reality and robotics.
Multi-purpose auditorium.
Dedicated Art studios.
Music rooms.
Two Libraries (with an extensive collection of literature for all ages).
One medical center with full-time doctor and nurse, plus one clinic staffed by another qualified nurse.
Main Dining Hall (serving nutritious food and drinks).
Additional Dining Hall (only available for girls).
School store (selling textbooks, workbooks and stationery).
Parent Café (we encourage parents to be active partners with our wonderful school).
Large outdoor all-weather sports field.
Multiple outdoor sports and play areas.
Indoor, air-conditioned sports hall
Science and Technology
Knowledge in the fields of science and technology is developed through practical learning alongside traditional conceptual learning. To facilitate our students' abilities to develop their practical knowledge in these important fields, we offer fully-equipped science laboratories and computer labs.
Our state-of-the-art Innovation Labs are an exciting addition to the curriculum and provision at WSF. There are dedicated spaces for all ages, featuring the very latest technology for innovative education. The availability of high-end technology such as virtual reality and robotics, with a bespoke and complementary curriculum, provides WSF students from age 4 to 18 years with wonderful opportunities to learn about the technology of the future that they will likely encounter in their further studies, life, or the workplace.
Sports Facilities
At GEMS Winchester School Fujairah, all-round student development is encouraged and supported. Students are taught a well-balance Health and Physical Education curriculum that promotes a healthy lifestyle and the value of sport and physical activity in the holistic development of young people.
Our sport facilities include:
Multi-purpose, air conditioned hall
Dedicated indoor, air-conditioned sports hall
Sports field with all-weather astro-turf
Multi-sport outdoor courts
Covered outdoor recreation areas
Air-conditioned play-area (for Kindergarten pupils)
Whether for sports activities, games or learning, the sports and physical education facilities at WSF offer a flexible provision to meet the needs of our students.