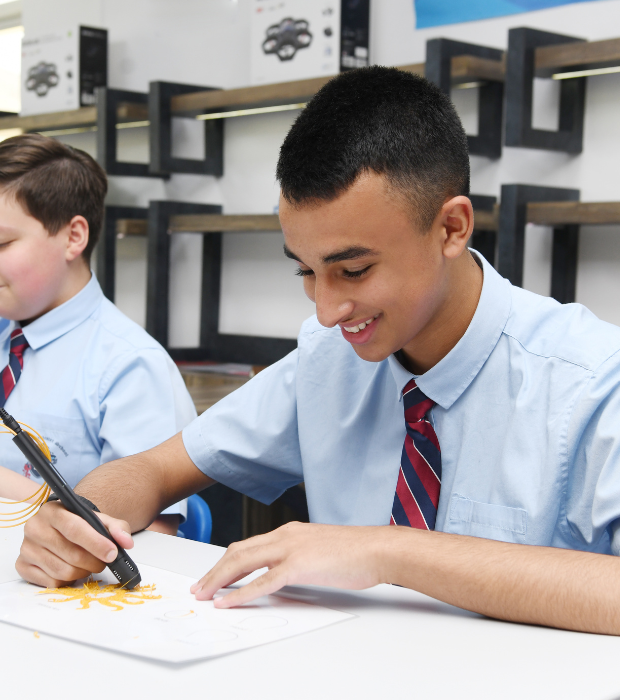 Academic Success
Academic Achievements
As a British Curriculum school, we offer internationally recognised qualifications alongside the local Fujairah assessment system. This means our students have the opportunity to achieve their UAE equivalency as well as a host of GCSEs and Advanced Level qualifications.
We are hugely proud of our Class of 2022. Students completed external examinations for the first time since 2019 and we are pleased to report their results place them above their UK peers. Over 79% of our cohort achieved A*-C grades, with 67% of students achieved A*-B grades, placing WSF students above UK national achievement.
In English Language, 100% of students secured a good passing grade, with a third achieving the top grade of A*. Almost half of all students entered for Biology, Chemistry and Physics secured an A grade or better. If you want to explore our current GCSE and A Level subjects, please see our curriculum section of our website HERE.
Academic Achievements
GCSE Results
Achievements
Success Rates
Grades 9-4 (A*-C) and above in English First Language

100%

Grades 9-4 (A*-C) and above in Physics

95%

Grades 9-4 (A*-C) and above in English Literature

92%

Grades 9-4 (A*-C) and above in Biology

87%

Grades 9-4 (A*-C) achieved by female students

84%

Grades 9-7 (A*A)

37%

Grade 9

(A*)

16%
Student Testimonials
I recently received my IGCSE exam results and was really delighted with passing with A*s and A's in most of my subjects. I would like to thank my great teachers for their guidance and support. We would email them with questions at any time whenever we were in doubt. They also taught us how to research ourselves, so we could find out our own solutions to problems, which is a really good skill to prepare us for university.

I was really delighted with my IGCSE results. Thankfully, I received 7 A*s and one A. I'm truly fortunate to have had such dedicated teachers, who have put all their effort and dedication into helping me feel comfortable with the syllabus and perform to my best!

I was really happy with my IGCSE results. I managed to achieve three A* grades in all of my sciences, As in Maths and ICT. Apart from me working hard, I felt like teachers played an extremely important role in my grades and confidence when preparing us for the challenges of exams. Without them I feel like achieving what did would be nearly impossible. So, I would like to say a big thank you to all my teachers who worked extra hard to keep us motivated and ambitious day by day.